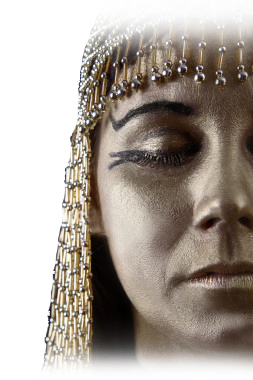 A few years ago, a film crew from BBC made a remarkable discovery. While they were shooting a documentary on crocodile life through 250,000,000 years, the crew's doctor noticed an almost unnatural quick healing process in the combative crocodiles. Big bloody wounds healed with a fine ulceration even though they live in stagnant swamp waters filled with bacteria and lots of viruses.
The observation was further examined and after numerous visits to crocodile farms, samples showed that the secret was within the crocodile's sparse fat layer. In comparison to the small African poisonous frogs, the crocodile's fatty tissue was found to have bacteria killing, virus fighting and fungus killing properties. This could be the reason the crocodile is one of the longest living creatures on our planet. The general belief is that the crocodile has not changed genetically for more than 250,000,000 years. History also tells us that crocodile fat has been used as a beauty treatment by the fabled Cleopatra. A funny fact is that African rural and tribal medicine men through hundreds of years have been called quacks for alleging that crocodile oil could heal wounds and help with a variety of skin disorders. Even relatively small portions of crocodile oil ointments have been shown to be very effective in remediation of eczema disorders, healing of wounds, treatment of fungus, cold sores and much more. Wrinkles can also be prevented with the oil because it has the property to cleanse the skin and boost the skin cells to make them live longer.
In Denmark the idea of use of crocodile oil is still very new, but eczema patients are already using the oil as an alternative or supplement to the tough medical products available. It has yielded great results. Many people are using the ointments and cremes for impure skin, wrinkles, wound treatments, protection against various viruses and fungi, and much more. Natural crocodile oil is therefore an answer to many skin disorders/problems and has already made many people's lives a lot easier to live.
Jewelnile Face and Body Oil - Amazing for scars

I tried the Face and Body Oil out of curiosity on some scars I have had since childhood and was amazed at the results. Not only did it make the skin on the affected area much softer, but I could really see a visible difference in the appearance too. The Oil also smells lovely and fresh - You almost get an immediate soothing and calming feel as soon as you apply it! I've tried many oils to get rid of my scars but this is the only one that has worked for me.

Claire Ross-Brown, Actress/Skuespiller

Jewelnile... Everyday luxury

I've tried all the products and I can only say that I'm very satisfied. The day cream is fantastic and gives you a soft and smooth skin. It is quite unique for the treatment of dry skin and wounds. The serum is very addictive. Try this one out for yourself!

Lise Lotte Norup, skådespelare

Jewelnile... A pearl from nature

After I took a shot for flu, I experienced a violent allergic reaction that resulted in a form of eczema/psoriasis that I had never encountered before. I'm not a big fan of the usual treatment methods that dermatologists use. Therefore, a friend recommended products with croc oil. I tried experimenting with Jewelnile Multi Purpose Ointment and Face and Body oil and it has yielded fantastic results. The eczema/psoriasis has been transformed to normal skin. Very soon I expect to be free of any symptoms. Multi Purpose Ointment is perfect for wounds because they heal pretty fast. If you happen to get burns, this Ointment is perfect for healing those as well. I've been using it for both the burns and the eczema. I sincerely recommend the products from Jewelnile.

Lissie B. Norra Skaane Sweden

The wart came off!

I have been fighting with this little wart that I had on the upper side of my hand for years. I tried everything but it would keep returning. That was until I tried Jewelnile Multi Purpose Ointment. I lubricated the area frequently over a period of three weeks. At first the protuberances became all black in color; but after three weeks I realized that I could peel off the wart. I haven't seen it since. Nature products with strange but wonderful properties.

Lasse Lunderskov, Actor and Musician

Jewelnile healed my fingers in a jiffy!

Once, I fell with my trolley and that ripped the skin off of my fingers. I lost too much skin so that I had to be taken into care at Rigs hospital's Trauma Department. After the plastic surgery I lubricated my wounds with Jewelnile Multipurpose and my wounds healed very quickly. They healed so fast that I sent leaflets of the product to the hospital immediately! I will definitely recommend it.

Finn Jørgensen, Tappernøje

Jewelnile swept the itching and stinging away from my skin!

I have a skin disorder that can't be treated. The only treatment available is a very harsh hormone cream that cannot treat but can only relieve the itching. That's the reason I tried a little jar of Jewelnile Multi Purpose, and I have to admit that the results are remarkable. The tough ointment immediately takes away the irritation and the itching from my fingers. I would really recommend this product. The crocodile oil works like a charm. I also use Jewelnile All Day Skin Care which is a lovely day crème that I will also recommend.

Gitte Schnoor, Søllerød

When I tried Jewelnile Skin creme and oil, it struck me that miracles could still happen on earth!

I have been troubled by atopic eczema for most of my life. I tried everything, ranging from a tar bath to hospitalization to medicine. By a coincidence, I heard about the Jewelnile products and decided to give them a try because they were natural products. I wasn't very optimistic. But a miracle happened; the crocodile oil worked on my skin and gave me peace from my eczema. My skin is much nicer and I am much happier.

Jeannette Nielsen, Ishøj

The child eczema on my knee disappeared when my mom lubricated some crocodile oil on it. It's completely gone!

For a long time, I have been fighting with the child eczema on my knee. None of the strange ointments I used helped me. One day, I tried applying crocodile oil and that helped heal it very quickly.

Mille Marie, 9 år fra Nærum

The eczema around my mouth came under control when I started to use Jewelnile.

A colleague of mine told me about an ointment that had crocodile oil. She had used it on her daughter who was suffering from diabetes induced wounds. After a few treatments, they were gone! Since I have had eczema around my mouth for a long period of time, I wanted to try this out. After just a few treatments, my lips were almost healed, and to this day I use the oil on a daily basis.

Henriette Henius, Holte